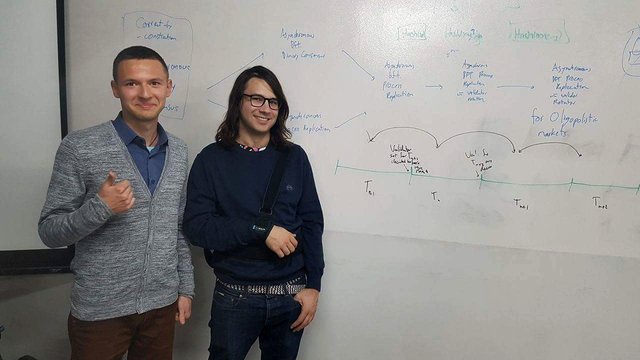 Most of the time
An expensive NO
My first encounter with Bitcoin happened in the early 2011 when one of my friends offered me to buy multiple GPUs and get a split share in our mining profits. At that time, I was quite young so you might understand why I turned down his offer. He did not explain it in the right way anyways and I wasn't ready to 'invest' money to collect some virtual coins that appear out of nowhere. I still beliebe that's one the biggest mistakes I've ever made but I can't go back in time and change anything about it.
The next few years I was studying software engineering and experimented with all sorts of stuff. For about a year I was making different web apps for small clients. Gradually, I came up with a simple Android app to learn different languages. Then I switched to front-end development with a focus on Angular and Material design, created a few apps during the training courses in Itera and Global Logic.
4 years of patience
After several years of figuring out which direction to choose in my career, in 2014 I decided to take a break and learn something different. That's when I got into business, finance and self-development. Surprisingly for me, this road has lead me to almighty Bitcoin again.
After doing a decent research and talking with several people who understand the tech, I made a decision to put all of my savings in Bitcoin. Obviously that's not the smartest decision anybody can make in 20 years but I have a plenty of time to live, so I can afford to lose. At least that's what I thought. It took me almost 4 years of savings from my $21.15 scholarship in both college and university to get to that number. So if there's something that I've learned during those years, it is patience.
Evidently it didn't stop there. I started to attend various conferences in our local region and learn about different projects appearing in the blockchain space. And then around mid 2016 I stumbled upon Steemit. I was really curious about the platform and decided to help my mom (@tanyabtc) to get her paintings discovered on the internet. I did most of the texts, she was performing the main job, drawing. It was a fun experience for a few months, we earned some money and the things were doing well.
However, I wanted to make some big contribution to the blockchain ecosystem and I didn't know how to make it on Steemit at that point. Steem witness was something I didn't fully understand, and writing consumed way too much time, especially when I take it seriously. I'm not a native speaker, so it's ever bigger challenge for me, even though it's a good practice. I have a series of articles on various of topics on my medium so I can't say I don't like it.
The youngest person who was funded by Dash
Anyways, the second most awesome project I was following for a very long period of time was Dash. Just for the sake of fun, I decided to apply for their DAO treasury. After countless of hours of doubt, I published my proposal and in the next month I received funding to make local meetups, one of which was dedicated towards Steem.
As the first person who has ever received a funding from Dash budgeting system, I got lots of attention from various individuals and companies. In particular, I was hunted by @paytomat which at the time didn't even have a name yet. My biggest dream since I rediscovered Bitcoin was to make cryptocurrency payments available to the masses, and that project was exactly what I wanted. So I got in.
Almost 1.5 years we've been working on a set of solutions that will simplify the life of both merchants and customers. The process was rather slow but the experience I gained during that period of time was priceless.
My position was changing almost every quarter or so, which allowed me to taste multiple things, including marketing, sales, public demonstration of our product, business analysis and content creation. At the moment I am mostly responsible for managing assets on decentralized exchanges where our token is traded successfully. Most of them are Chinese or Korean, which is a challenge itself.
Bringing Steem payments worldwide
My goal with Steem is going to be quite similar, to bring new merchants on board who would like to start accepting Steem, EOS and other cryptos as a new form of payment. With over 1 million accounts I bet there are enough interested individuals to discuss the potential mutual opportunities.
I'm always open to chat so don't be shy if you have any questions, suggestions, requests. Any feedback will be extremely valuable.