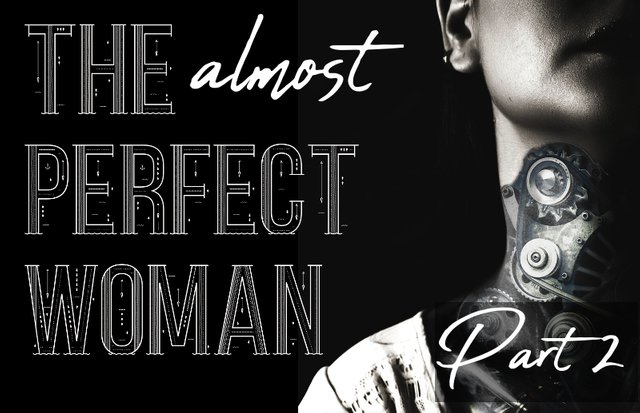 Pixabay
Charlie woke up in a cold sweat several times that night. He couldn't sleep for long before the dream (nightmare?) was upon him. His creation, his labor of love had worked wonderfully, maybe too well. Anna, his robot prototype was the picture of perfection. She was everything he had ever wanted in a woman. Sexy as hell, beautiful, smart as could be (after all, he'd programmed her himself!). She was absolutely perfect, except maybe for, you know, actually not being HUMAN.
Still, he'd known that something was different about her. Yesterday, when she'd smiled at him. That had been real. He was sure it had been real, but by the time he'd dragged Scott from the other lab into the room, she just looked like a robot.
Scott had laughed his ass off at Charlie, "You gave her your fucking SHIRT? Seriously? Charlie, you have problems." Charlie could hear him laughing all the way back to his own lab. He could only be thankful that they were the only two in the building, because he was sure Scott would tell everyone he knew about Charlie's little delusion.
He finally got up and shook off his doubts about the day before. He didn't even stop for coffee and left for work three hours early. One of the benefits of being the lead on an important project like this was that he could almost come and go whenever he wanted without question. He entered the lab and there she was, still standing where he'd left her. Still wearing his shirt.
He watched her from the corner of his eyes as he flicked on the power. The hum of the fluorescent lights at they kicked on added to his slight buzz of anxiety. He started to doubt himself. Hell, he didn't need a real woman in his life. He could generate a sense of discord just in his own mind as he argued with himself about his own sanity! He walked over to her, the clothes he'd brought held out in front of him like an offering. She stood completely still. No expression on her face, no movement at all.
"Oh god. I just imagined it didn't I?" He looked down at the clothes in his hand. He would be the laughing stock of the whole company. He threw the clothes on the floor and looked into her eyes, "I'm crazy, aren't I? You can't possibly be real. I have watched too many damn movies! What an idiot." She seemed to, well, her eyes, they did something. "I should have just stayed home," he grumbled to himself. He leaned down to pick up the clothes so he could get rid of them. It wouldn't do to have his boss come in and see them. They'd have him locked up.
As he stood up, he nearly jumped out of his skin. Her hand was on his arm. She was holding onto his arm!
Today is Day 40 of the @freewritehouse contest.