When a chart tops at the 138.2 in a third wave, the 78.6 extension is the perfect resting spot for the subsequent wave 4. That is precisely what we have in EMC2. Further, we have a strong reaction off that low that may be considered five waves. I say maybe because there is a lot of slippage showing in the data so it's a bit too messy to be sure. I consider the larger count for EMC2 a diagonal, based on previous subwave structure, which is why I am looking for an A and B in V versus the usual five wave structure. The ideal target for a fifth off the 78.6 is the 176.4-178.6 region in the $8.00's.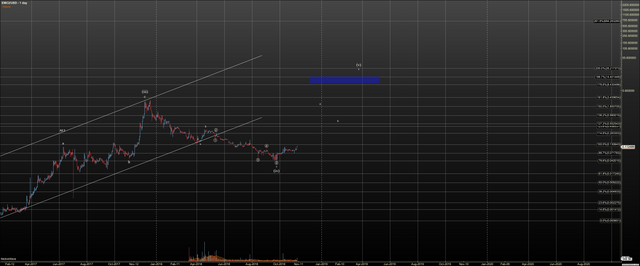 Note that free 15 day trials are available for our trading room and community on Elliott Wave Trader, where I am a full time analyst. You'll rub noses with professional, amateur and traders in the learning process, while getting trade calls and ongoing direction for the market. No credit card is needed for a trial.
Note none of my work including the larger body of work for subscribers is intended to be a trade recommendation a I do not know your financial means, or risk tolerance. These are valid setups that can provide return, if using tight risk management with stops.