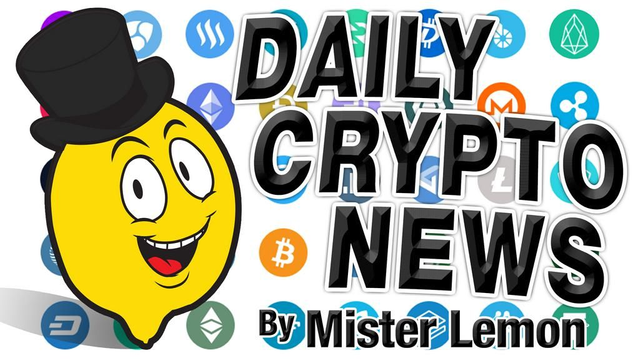 Ethereum's Constantinople Upgrade Faces Delay Due to Security Vulnerability ;
Dropgangs and Dead Drops: Report Highlights Evolving Darknet Market Opsec ;
How the US Government Shutdown Is Halting Crypto Progress on Wall Street ;
Cashshuffle Developer says privacty project nears completion ;
📑 Daily Crypto Calendar, January, 16th💰
STEEM Trading Update
Welcome to the Daily Crypto News: A complete Press Review, Coin Calendar and Trading Analysis. Enjoy!
We reached 11.93 mn visits in December!
There is an important difference between total visitors to a site and unique ones. In this case the 11.93mn include the multiple times a person visited the website.

Traffic Share Evolution since inception of this analysis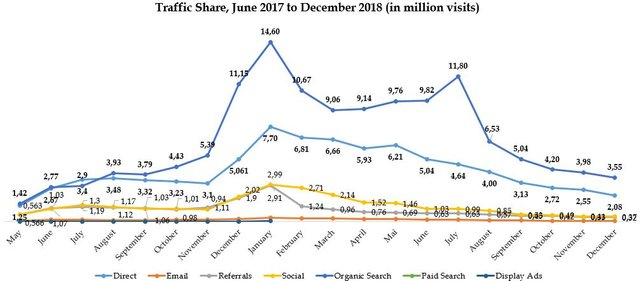 Ethereum's long-anticipated Constantinople upgrade has just been delayed after a critical vulnerability was discovered in one of the planned changes.
Smart contract audit firm ChainSecurity flagged Tuesday that Ethereum Improvement Proposal (EIP) 1283, if implemented, could provide attackers a loophole in the code to steal user funds. Speaking on a call, ethereum developers, as well as developers of clients and other projects running the network, agreed to delay the hard fork – at least temporarily – while they assessed the issue.
Participants included ethereum creator Vitalik Buterin, developers Hudson Jameson, Nick Johnson and Evan Van Ness, and Parity release manager Afri Schoedon, among others. A new fork date will be decided during another ethereum dev call on Friday.
The rise of new stablecoins was a defining story in the second half of 2018, but the reality is that exclusive discounts partly fueled their growth.
Dollar-backed stablecoins are generally supposed to be worth $1, whether it's Gemini's GUSD or Paxos' PAX. But according to four sources with knowledge of these cryptocurrency exchanges, both stablecoin-issuers privately offered over-the-counter [OTC] trading desks up to a 1 percent discount if traders used these tokens in some fashion before redeeming them for USD.
"They were offering that as a sweetener for getting it kick-started with adoption," an OTC trader, who asked to stay anonymous, told CoinDesk.
Blockchain and Bitcoin mining manufacturer Bitfury announced the launch of a dedicated venture to open source the music industry in a blog post on Jan. 16.
The spin-off, dubbed Bitfury Surround, aims to tackle the complex and often unfairly proportioned flows of revenue between artists, fans and middlemen using blockchain technology.
The post explains,
"The Surround platform will enable the entire music entertainment industry to streamline operations through secure transfer of copyright assets, streamlined connectivity as well as better monitoring and management systems.
One of the Cashshuffle development team contributors, Josh Ellithorpe, revealed on Jan. 14 that the BCH-focused privacy shuffling protocol is near completion. The developers are planning to run a security audit on the code and have launched a fundraiser on the Bitbacker.io platform to help secure funding for the audit.
📑 Daily Crypto Calendar, January, 16th💰
"#Ethereum Constantinople mainnet hard fork scheduled for block #7080000, estimated around the 16th of January, 2019!"
Bitcoin Future Contract (XBT/F9) expires.
EBoost Exhibit at conference with gaming pc's and mobile phones demonstrating our new mobile game powered by eBoost. Also a sponsor.
KUBO attends BTC Miami Week from Jan 16 -22.
Veros tokens will be listed on the Exrates exchange, January 16th, 2019.
STEEM Trading Update by my friend @cryptopassion
Here is the chart of yesterday :
Here is the current chart :
As you can see, we are still in neutral zone, in the middle of our 2 lines. These 2 lines are forming a trading canal since weeks now and we will need to wait that the market break one of these lines to be able to know which new trend we will start. What to do during the waiting? If you are longterm investor on STEEM, this price can be an opportunity. Regarding a trading point of view, I will just wait the break of one of these lines.
Last Updates
You don't want to miss a Crypto news?
Join SteemFollower and get Upvotes back !