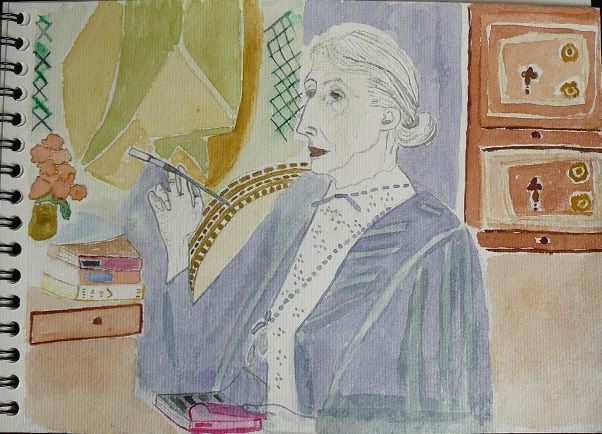 Acuarela de @ednaluna
Yesterday I was –westernly- meditating,
while I was cleaning plastic bags to recycle.
In my process I started to think about the cyclical mechanisms of:
a) LIFE, as the evidence of the main fact of living;
b) WORLD as a experience of the psycho-spatial context, and
c) COSMOS', as immanent concept of complementarity between the different elements giving sense to human existence… Of course we don't want to take our humanity out of cosmical picture.
---
Woman
Modern world…
Why talking about woman? Let's talk about art. We're not writing poetry here or saying she is one of its best pieces. Have we been design (idealized)? Socioculturally we all come of collective will. I thought: isn't it cruel to conceive ourselves as a dependent bulk of changing/inconstant nature? History sustains it.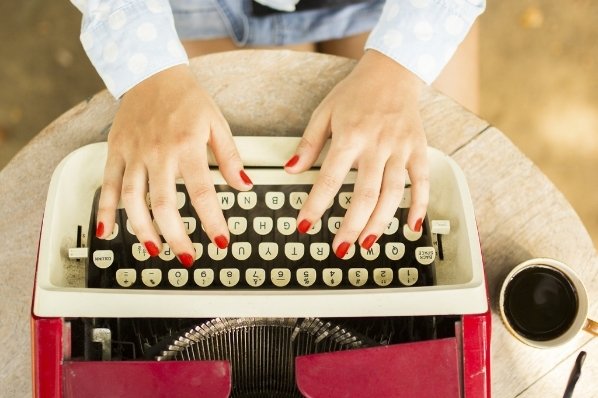 Picture Source:
"Doghouse: Gay Talese Can't Name a Woman Writer Who Has Influenced Him"
by Charlotte Hays
"Ghiberti was first in depicting art history, and qualified prehistory and classical antiquity, medieval period and what he called "reborn of arts". Living this reborn, he identified what we know now as The Renaissance. Greek-Roman culture is the origin of classic manifestation which has always influenced occidental artistic creation until our days and has defined the cannon from which, by inertia, surges everything that seems beautiful to common individual.
Through history, before modernism, occurred, I say, a sort of questioning. During Late Renaissance, appears as a sort of revision of decorum and manner or style; this is a way to see it according to my personal point of view and it's mannerism or High Renaissance: during this period many artists dedicated to the study and imitation of classical masters techniques.
If artist criteria and his identity are the source of his creation, history and its main actors found the creative. More brave artists, the disobedient and controverted –now and ever- response to a seemingly defiance which comes from the same one that questioned everything just before the modernism. It's because in the Renaissance not even poetry was considered as art, because art was originally considered as a result of intellect. It was just before Renaissance when they separated craft from art. Since then and on art (from Latin ars, artis) and techniques (from Greek τέχνη téchnē) never meant the same again as it did at sometime.
---
Muse: Man or Woman?
Virginia Woolfs' "A Room Of One's Own" was published in 1929. It is a compilation of conferences given by the Britain writer to Cambridge Woman Universities. What topid did they asked her to approach? Literature and woman's role respect to it. What did Virginia said? Between the lines, she said an artist needs to own wholeness to benefit the creative spirit. This need wasn't reserved to woman, just because of her limited position in that society: A Room Of One's Own is a manifest for all. I will concrete to refer to evolution and I will point that, biologically, men's physiological aspect and his inherent dominancy have ever provided him an advantaged position in every aspect of live, including arts. Woman may today, and against all statistical prediction, define herself through more egalitarian paradigms: now we don't just inspire beautiful pieces of art, but we make them too.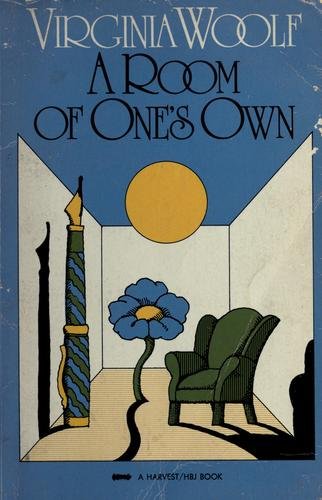 Picture Source:
Opinion Article; Reference for "A Room Of One's Own"
---
Artist: creator or creation?
Although art and expertise aren't the same anymore, looking through from a modern perspective opens our vision to a world where actually we all could be considered artists in our particular fields of profession. In that sense it's shown to us a wide spectrum of psychomotor and sociolinguistic aspects which participate of the reality of everyday competence transforming almost every work in a way of artistry.
As we've learned to make use of human qualities to turn ourselves into living messages, meaningful, with clear identity, we have whole this world of artists. Our communities are full of these kinds. Then, if we've awaken to the communicating power we embodies, where does our creation end?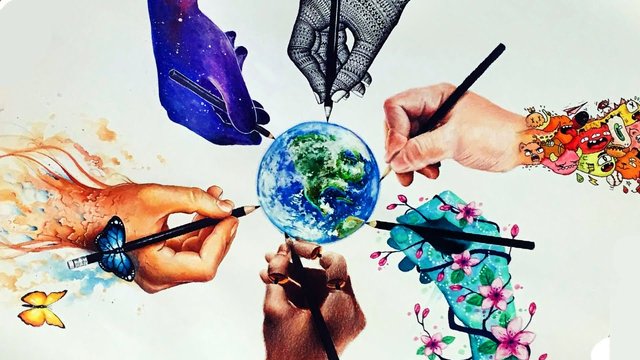 Picture Source: Youtube Video ART COLLAB with 6 ARTISTS STYLES !!! | Timelapse
---
Where does our Creation end?
Virginia Woolf took the decision of being a writer, ironically , in response of an inner need opposite to woman prototype prevalent in the moment she lived, but at "A Room Of One's Own" she suggests too naturally the possibility of pretension of any woman in desire of living not just alone but for the writing or phylosophycal reasoning will.
Where did this text come from then? A conflicted woman or a progresive society? Who is Virginia Woolf the writer but a 20's London Woman? Is today's woman, today's artist proyected in "A Room Of One's Own?
Artistic creation, as I read days ago and have a couple of times before, has a temporal context, a sort of validity given by the power of its message at a particular moment and space.
The Creative transcends not only time but artist himself because it's a vehicle which fuel is collective.
---
136° Aniversary of Virginia Woolf's Birth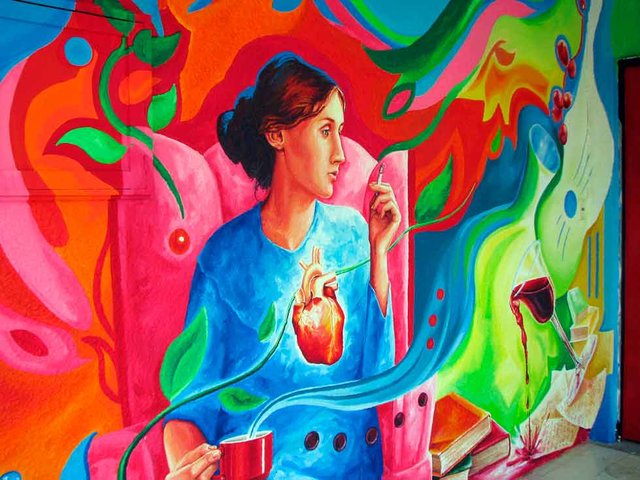 Picture Source: Adry Del Rocío Dossier
Last Month, at a radio interview with Alejandra Fernandez in "Educarte En La Radio" (Educarting In Radio" in Circuito Plus Station, 102.9 fm) in Cumana City, I was asked:
Want to say something to our today's audience?
And I closed the show reminding artists and arts aficionates, everybody actually, the importance of creating from integrity. You may consider a creation is completely yours only if you keep it in secret, sure you can. When you make it public, then you may only keep that place in you where it came from, motivation which it surged from… Because when you impact on a reader, an audience, your message turns into other's, your rhetorical acquires shades, your creation enriches and it is evidenced from many points of view. It's a condition inherent to nature of culture.
Virginia Woolf suicided, and Tuesday 25th January a note was posted at www.lavozdegalicia.es: an article entitled 'Why did actually Virginia Woolf suicide?' where author suggests the influence of social context on Virginia's psyque as its cause.
Virginia Woolf, through her story and "A Room Of One's Own", made her mark on my identity, artistic one too. We ARE though our creations, we are the people who receives our creation, we are the vigency of our artistic work through time, and we are each of us a living message.
Finally, I want you to listen to a song I wrote inspired in the feeling I received from Virginia Woolf's message in "A Room Of One's Own" essay.
VISIT
My Youtube Channel
Thank you, literary community of Steemit and anyone, for joining me during this whole post!