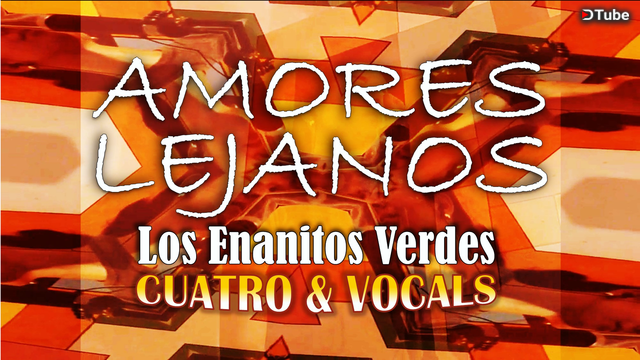 ---
¡HOLA, VALE!
"Amores Lejanos" es un clásico del rock latinoamericano, junto con "Tu Cárcel" y "Lamento Boliviano" de la misma banda. En cualquier noche de clásicos del rock en español, cantaremos este tema, o alguno de los otros dos. Es una canción que disfruto muchísimo cantar por el contexto de la historia. Carmencita representa la feminidad latina, y ella ya no está en las calles del barrio. El protagonista la extraña y esta canción es para ella. Yo he disfrutado mucho interpretándola, echando este cuento.
Igual que el anterior, este es un cover en el que grabé dos cuatros base, uno de los cuales se escucha al último tercio de canción y está distorsionado. También hay un track de arpegio de cuatro. Grabé dos tracks para backvocals, y a última hora (por eso no sale en la edición del video) coloqué una percusión menor, un shaker, en la última mitad del tema.
He recibido un poco de apoyo de @Maxipiano para la ecualización y mezcla.
Espero que disfruten mucho esta versión.
(Por cierto, me acabo de dar cuenta de que me comí una estrofa, la cual extrañaré, pero de la que prescindiré, por lo tanto, en esta ocasión. Para la próxima…).
---
HELLO!
"Amores Lejanos" (Distant Loves) is a classic of latin rock, as "Tu Cárcel" (Your Prison) and "Lamento Boliviano" (Bolivian Lament) by the same latinamerican rock band, Enanitos Verdes. In any night of rock classics we are going to sing this song, or any of both other, even the three of them. I have enjoyed a lot singing to it, mainly because of the context of the story, like very popular, very latin. There is this lady, Carmencita, who seems to represent latin beauty, and she's been gone, so this song sings her absence from the voice of a man who used to enjoy of her presence around neighborhood or something. So I enjoy very much telling this story.
Just as my last entry for Open Mic, I made this cover recording 2 base cuatro, one of them only in the last third part of the song and it's distorted. Also you can hear an arpeggio with cuatro. I made also two tracks of backvocals, and a shaker which I captured on last minute and which you won't see in video, but which sound from the middle to the end of the song.
I have received support by @Maxipiano equilizing and mixing. Thanks to him.
I hope you enjoy it so much.
---
Youtube Version of my Entry
---
---
AMORES LEJANOS – Enanitos Verdes
(Classic of Latin Rock)

La verdad no se cual es la opinión de los amantes y críticos del rock en español. Yo considero este tema un clásico, porque la banda es icónica. Este tema fue lanzado en 2002, es decir que el tema tiene unos 16 años desde que sonó por primera vez en la radio. Yo tengo 27, la canto desde hace 5, quizá, y la escuché siendo adolescente. Lo que no sabía era la fecha de la que data. Resulta no ser tan vieja. Igualmente es relevante en la cultura rockera hispana. Espero que les guste mucho.
---
---
---
MY PROCESS - Mi Proceso
I use Avid Vocal Studio to record. It contents: a) an Avid M-Audio USB microphone/interphase, and b) ProTools SE software.
Uso Avid Vocal Studio para grabar. Esto incluye: a) un micrófono/interface USB Avid M-Audio, y b) una versión del software especial para este paquete de grabación llamada ProTools SE.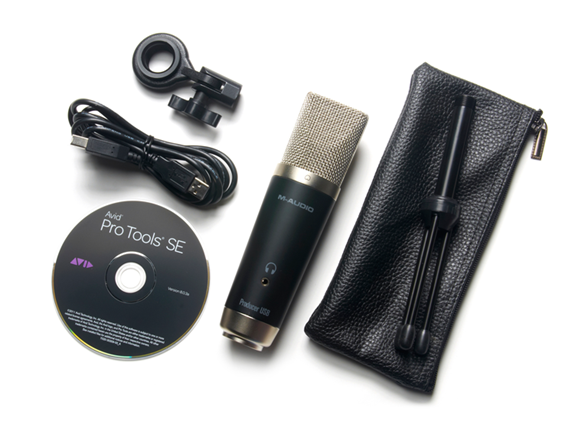 AVID VOCAL PRO STUDIO - Paquete para Grabación Vocal marca Avid(Source / Fuente)
---
---
First of all I searched for my tempo. I set it in 124 bpm.
Primero busqué un tempo. Lo fijé en 124 bpm.
---
Without any base I recorded my VOCAL GUIDE track. Doing it this way, I think it helps me to feel I'm starting from nothing, which gives me certain sense of freedom and makes me forget a bit any previous idea I might have.
Grabé mi "Voz Guía" acappella. Lo hago así como una forma de sentir que empiezo el proceso desde cero, y me permite olvidar las ideas previas que tengo sobre cómo suena o ha sonado el tema.
---
Next I recorded my BASE CUATRO, but I got two versions of it. I kept both: ONE of them is my actual harmonic base, and the OTHER has a duplication, both distorted but one of them only supports a crescendo I printed for the song to explode in the last part. The ONE is the main distorted cuatro, and the OTHER only sounds in the crescendo segment.
Luego gabé mi "Base Harmónica" o Acompañamiento, de las que obtuve dos versiones. Conservé ambas: UNA de ellas es la base armónica principal, y la OTRA esta duplicada, y ambos duplicados están distorsionados; uno de ellos da fuerza a la última parte del tema, y otra es solo el segmento en "crescendo" que lleva hacia esa parte más intensa del tema.
---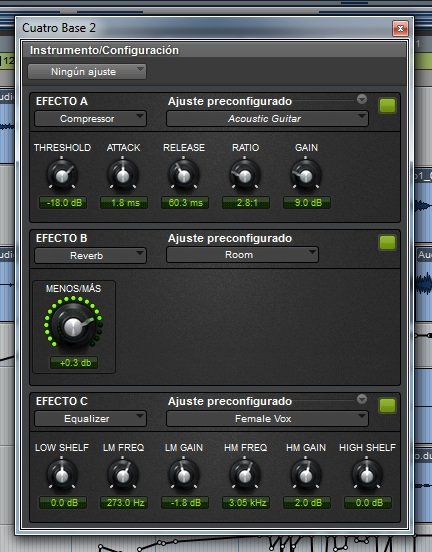 MAIN ACCOMPANIMEN - Acompañamiento o Base
---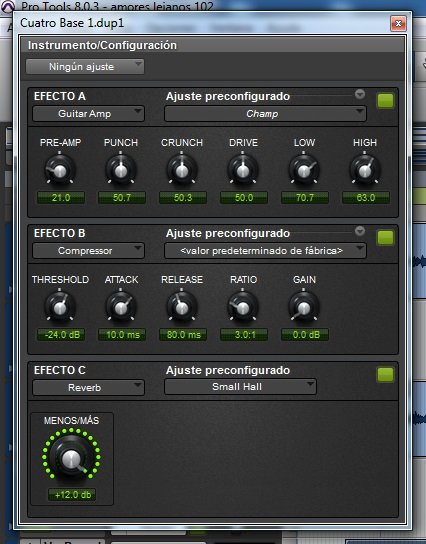 CRESCENDO - Transición hacia aumento de intensidad
---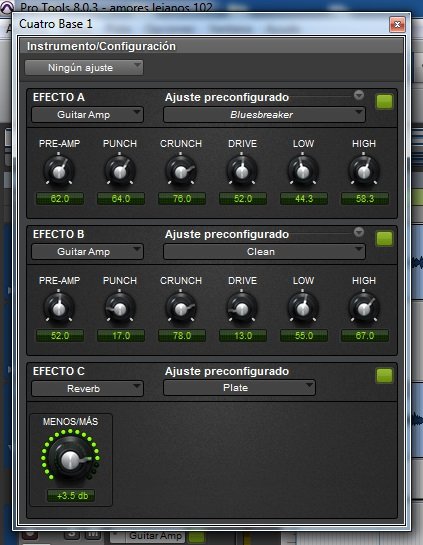 DISTORTED CUATRO - Cuatro Distorsionado |
---
I recorded a riff, which is an ARPEGGIO only for verses and the whole last part, the ending.
Grabé un riff, que es un "Arpegio" con cuatro, la cual usé solo en las estrofas y el final.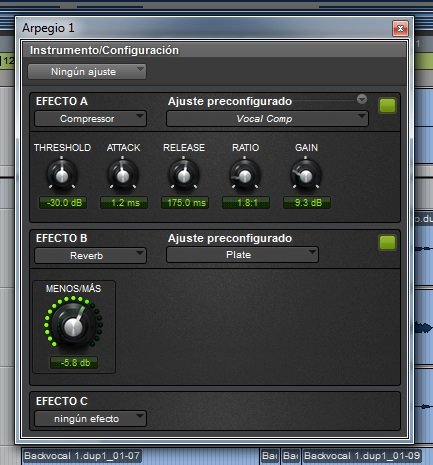 ARPEGGIO - Arpegio
---
Then I made my MAIN VOCAL track. One take, a lot of inspiration and feeling.
Luego grabé mi "Voz Principal". Una toma, mucho feeling y conexión con el tema.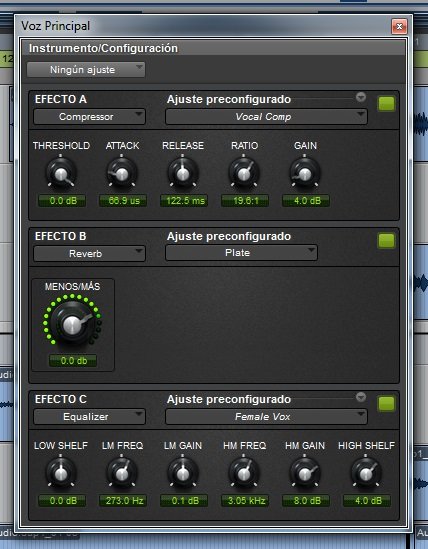 MAIN VOCAL - Voz Principal
---
I made some tries for my BACKVOCALS. I kept 3 versions, they all sound in different layers, sometimes simultaneously.
Hice varias pruebas para las "Voces de Apoyo". Me quedé con 3 de ellas, y todas tienen effectos disferentes. Suenan en distintas capas, algunas de ellas simultáneas en determinadas partes.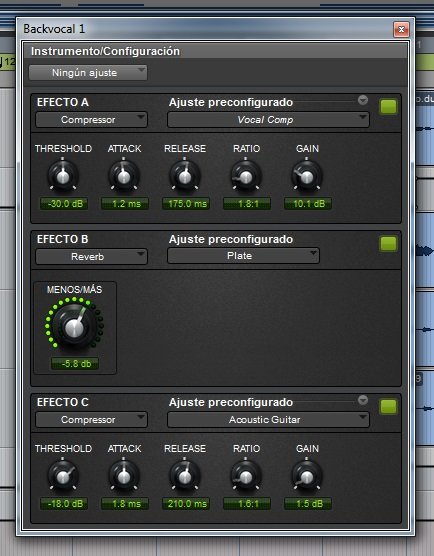 MAIN BACKVOCAL FOR VERSES - Apoyo Principal para Estrofas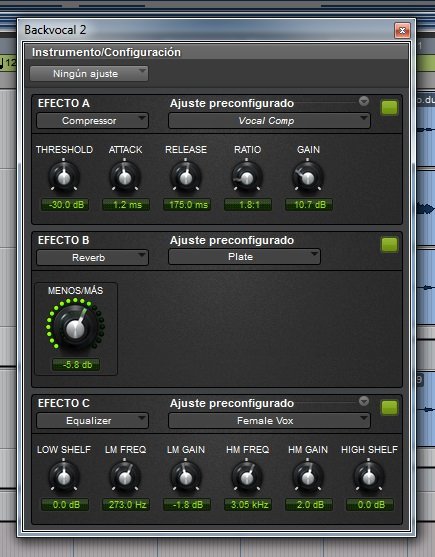 MAIN BACKVOCALS FOR CHORUS & FREE VOICES
Apoyo para Coro y Voces Libres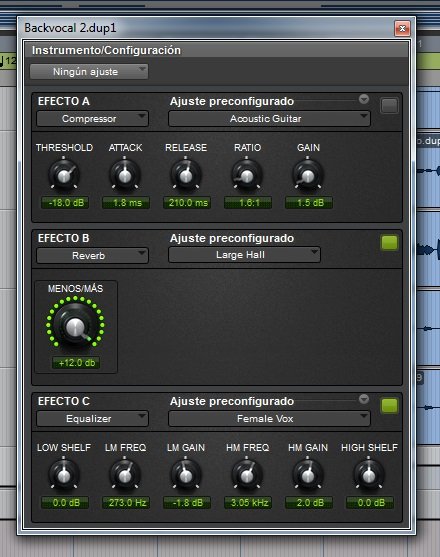 BACKVOCALS FOR CHORUS DUPLICATE & FREE VOCALS
Duplicado del Apoyo para Coro y voces Libres
---
The last thing I recorded was a SHAKER. It wasn't planned but I felt it was missing. It is only from the middle to end.
Lo último que grabé fue un "Shaker" o Maraca. No lo planeé, así que lo hice fuera de mi sesión de grabación. Lo hice en mi habitación y por eso no entró en la edición del video.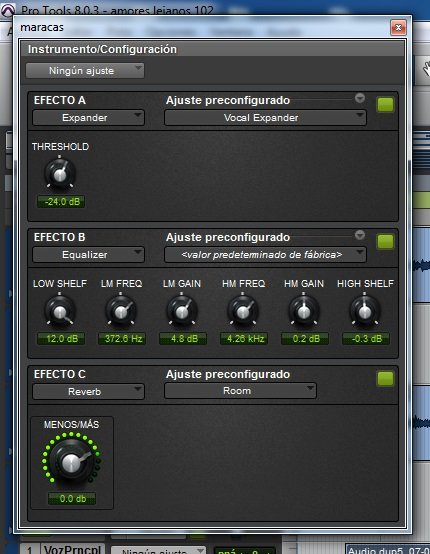 SHAKER - Maraca
---
---
---
I hope you find this very useful!
Tell me your comments!
---
---
---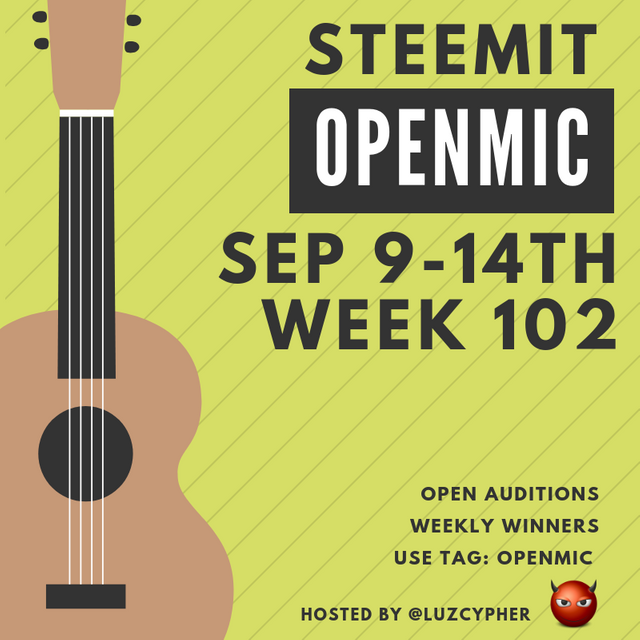 SOME USEFUL POSTS
---
Or Watch This Youtube Version


---
▶️ DTube
▶️ IPFS