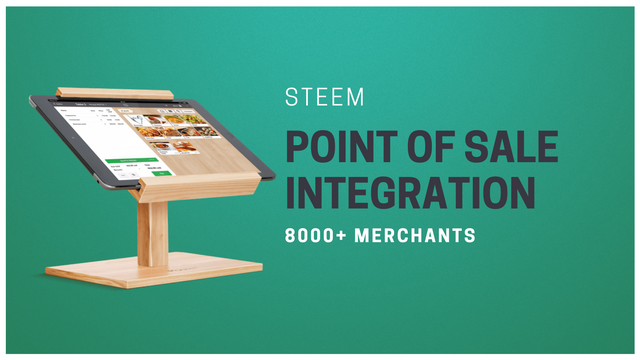 Why STEEM payments make sense?
One of the most promising facts about cryptocurrency is that it is an excellent form of payment. Well, it depends. For me payments are all about speed and convenience. With Bitcoin it's not always the case, thus eventually it either has to change dramatically in the technically or get strategically mascaraed into Paypal-like products and wallets. I have never used Paypal because my country doesn't allow it but I am a big believer that beautiful interfaces and the ease of integration of any payment system is the key to wide adoption.
I'm not a Bitcoin or any other crypto maximalist, thus I value any blockchain that has the characteristics that appeal to me. Apparently, Steem wins across all of the channels of being the top performer in payments. It is almost instant transactions, human-readable usernames, an excellent set of APIs and services, probably bigger than any other blockchain combined.
However, the biggest key that Steem has to offer is its userbase, the customers. That's the only thing that matters at the end. If we exclude bots, every individual account on Steem blockchain is a person who holds at least a small amount of STEEM. That means they are already involved in crypto. Basically, STEEM currency is the gateway to all of the other cryptocurrencies. That is powerful.
That also means that a person who earns STEEM could hold on to them and spend them directly if there's a way to do so. I know there are people who have the entire income in STEEM only and can benefit the most while paying with STEEM for their lunch, utility bills, gas, rental services, tickets and whatever they are actively using on a day to day basis.
Hopefully, that became one of my main goals when I joined Steem, and finally our team @paytomat launched STEEM payments last month.
There are lots of exciting possibilities that Steem will be introduced to in 2019 due to this one integration but let's start with the big one.
About integration
One of our core strategies back in the beginning was to integrate with existing point of sale systems that brick and mortar businesses are already familiar with. In this case, merchants don't need to change their hardware or buy new equipment. They basically install an update into their software, sign a contract and start accepting crypto.
Obviously, most of them don't need crypto right now, thus we send a fiat equivalent (USD, EUR, etc). But there are a few who do want to keep their crypto because they see a big potential in the future.
At the moment, @paytomat has an integration with several POS systems but they mostly cover post-soviet countries, including Ukraine where our whole team is based.
Poster currently is the only one that supports multiple languages and is working internationally. It has over 8000 merchants with 50,000 locations in Eastern Europe, Thailand, Mexico, US and South Korea.

They are really awesome guys and are open to any ideas in terms of partnerships or integrations.
What does it mean for Steem?
Poster is a cloud-based point of sale system which makes it very efficient and customizable. They have a built-in app store of the apps, one of which is @paytomat through which STEEM payments can be done.
This integration means that all of the existing merchants (8000+) can start accepting STEEM by simply installing a @paytomat plugin in Poster app store. There are already hundreds of them who have been accepting various cryptocurrencies, now they accept STEEM as well.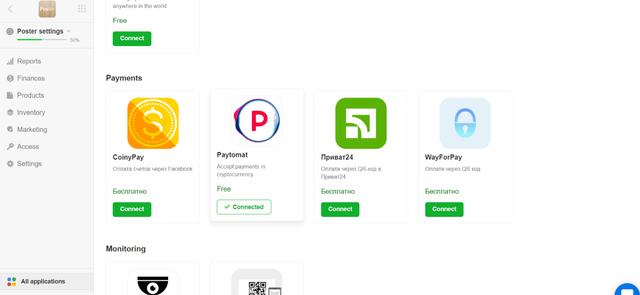 However, all new merchants can also set up a Poster account and start accepting crypto for their services.
Below you can also see how the merchant will interact with the POS and crypto payments. After you install the app and configure authentications settings (will cover separately if needed), you will see 'Pay with cryptocurrency' button.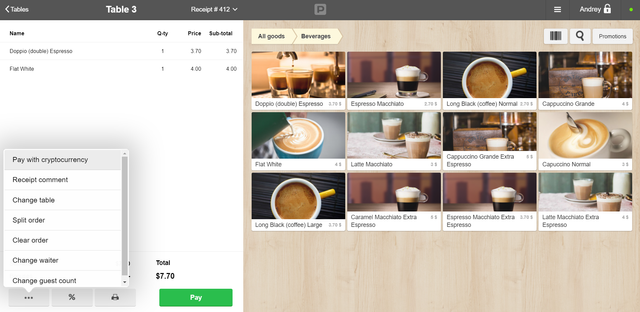 Then you just simply proceed and choose STEEM as your payment method.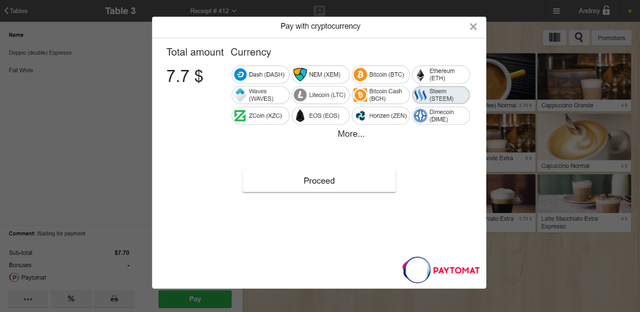 Now, the customer can scan a QR code in one the wallets that support STEEM and pay for their coffee. There's also an option to print a receipt if a business requires that stuff (restaurants, gas stations, etc.)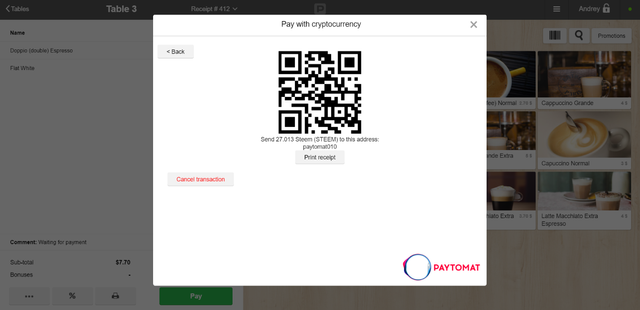 As soon as transaction being received, a merchant will see a quick notification in their POS.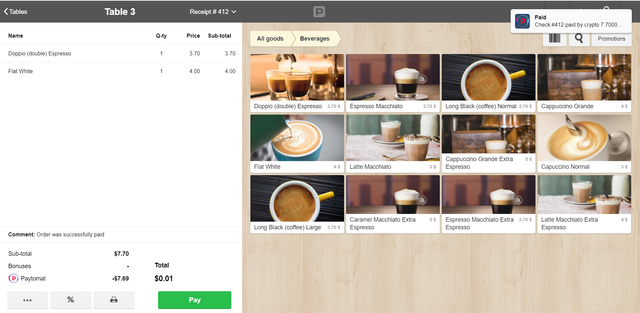 All of the transactions paid in crypto a merchant will be able to see in their Merchant Panel (will cover separately if needed).
---
If you want to become a Poster merchant, you can visit their website or reach out @paytomat
If you want to start accepting STEEM or any other crypto, shoot us an email: support@paytomat.com
---
Thanks for your time. Let me know if you have any questions. Your feedback is my oxygen.