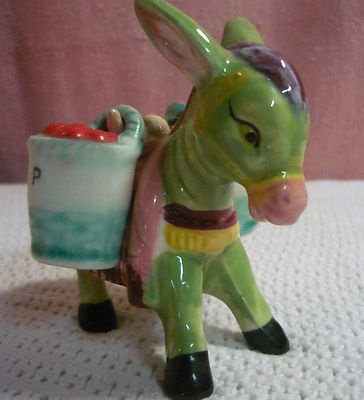 Not the actual item, but similar. Image courtesy of google images.

The Story
My grandpa died just a couple months ago, in early May. After everything settled down after the funeral, it was time for his kids to sift through everything in his house. Decide on what to keep, what to donate, and what to toss out.
As all the stuff came out of their hiding places, splayed out on tables, floors, and countertops, I spotted an item I hadn't seen in what felt like forever: a green clay donkey with clay saddlebag salt and pepper shakers. An out-of-place treasure indeed.

.................................
When I was young, I remember a day I scrupulously searched through my grandparents' cabinets. Grandparents sure collect some interesting odds and ends, and they always happen to be delicate or breakable things too, do they not?
On the outside of the corner cabinet, the door opened to reveal a few shallow shelves. One item on this shelf was this green clay donkey with matching clay saddlebag salt and pepper shakers. If I had asked my grandparents where they got this from, I can't remember their answer. All I remember was that it stayed on this obscured shelf and didn't come out.

...............................
Back to the present, holding the unloved item, I asked my mom what was going to happen with this salt and pepper shaker and if she remembers where it came from. She couldn't remember where it came from; it was possibly a gift. She also said no one wanted it, and since it was missing a piece, it was getting tossed out.
I felt an inevitable statement begging to be voiced. "Can you believe grandma and grandpa held on to this thing, hidden on a shelf for so many years, only to have it get tossed out?"

The Lesson
It was humorous at the time,
but let that statement sink in for a moment. How many things do we hold on to, just because? Do you hold on to gifts that you don't want, because you'd feel guilty tossing it out? Do you keep something, but don't use it because you might ruin it?
Aside from this odd piece not being of anyone's taste, because it was not on display or being used, it held no sentimental value. No one wanted to keep it for the memories.
This little moment changed our perspective on what and why we are holding onto the things that we do. For me, I'm mostly a tosser already. However, with the things I do hang on to, I now make sure they are put to use. What's the use in having something take up space if it's not seen or being used?
Have you had an "aha moment" regarding the things you keep in your life? I'd love to hear about it!