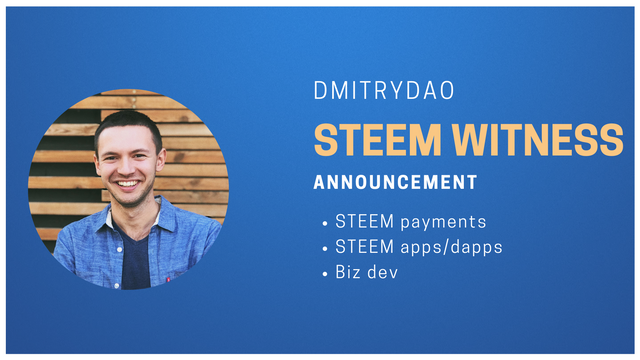 Dear Steem community. I want to make an announcement – I'm launching a Steem witness.
Intro
I am Dmitry, a tech guy from Kyiv, Ukraine. I've already made a separate intro post but here's my main achievements so far:
2.5 years of blockchain experience (mostly business analysis and biz dev in fintech company).
Had several successfully completed working proposals in Dash DAO (event organization, product development, integration with HoReCa software).
Participated in creation of a payment system @paytomat from scratch. Currently has hundreds of merchants who accept cryptocurrency in Eastern Europe, US, Venezuela, over 5000 downloads of multi-currency wallet, numerous plugins for point of sale and e-commerce systems.
Public demonstration of blockchain products in more than 15 countries.
Pushed STEEM implementation to Paytomat Core.
Was a participant of Steemit since August, 2016, managed my mom's account @tanyabtc.
Why now?
I had a desire to launch Steem witness earlier but I didn't have enough experience in the blockchain space. On top of that, it seems like the community needs a little help with the infrastructure due to price depreciation of STEEM. This will change eventually but we need to beat the bear first.
There are also a few significant metrics that make me feel confident about the long-term future of Steem:
The number of Steem based apps is growing at a rapid pace. Thanks for @therealwolf for finally putting it all together into Steemapps.
The number of active users and new accounts on Steemit grows in multiple times each year.
The cost of running seed and witness nodes is quite high but thanks to RocksDB decision that issue will be gradually solved. This one will attract more entrepreneurs and devs who might want to set up their own node for running Steem app/dapp.
The number of nationalities using Steemit is expanding as well. I've already seen Korean, Japanese, Chinese, Italian, Deutsch, Russian, Spanish, Arabian, Portuguese, Polish, Thai and Turkish communities. That blew me away.
Most of the blockchain projects (Dash, Waves, NEM, EOS block producers) and other noticeable influencers have already created a Steemit account and are regularly posting their content here. For me that's a clear message of platform's reputation.
The SMTs development is the main focus of Steemit Inc. at the moment and that makes me happy because I know how big this can become if implemented right.
Roadmap
Originally, I wanted to create a witness manifesto but that idea quickly died so instead I came up with the core activities I want to focus on:
Expansion of STEEM payments use cases (via steemconnect).
Development of Steem apps/dapps that increase transactional usage of STEEM.
Expansion of Biz dev opportunities, bringing new clients, partnerships and influencers to the Steem network.
Funds
Most of the funds from the witness will be used on signing of merchants, franchise networks, software products, games and marketplaces that want/need to accept STEEM and use its identity layer. However, in the long run I envision contributions to different teams who make dapps on the Steem blockchain.
Hardware
Originally I'm launching a single witness node with the following characteristics:
64GB DDR4 RAM
2x250gb SSD
Intel i7
Unmetered 1gbp/s
Location: Finland
To support Steem devs, I'm using @privex service created by @someguy123. I believe it should work perfectly, especially after the launch of a customer panel. As RocksDB is implemented and the costs of running a node gets down, I'm also starting a seed and backup nodes to keep the witness node, as well as the Steem infrastructure more secure and stable.
The first couple of months I will run witness node by myself but gradually I'm planning to find a good devops to have the best service quality 24/7.
---
If you like what I do, make sure to vote for my witness (via steemit or steemconnect). Witnesses produce blocks so don't skip.